After speaking to Microchip representatives as well at colleagues at The Things Industries, we've decided to replace current module based LoRa hardware and software stacks with the ATSAMR34J18 which includes a MCU with USB.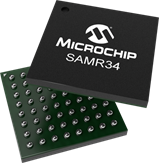 It will be a welcome challenge to integrate tooling for the 64-pin 6mm square BGA with dense 0,65mm pitch between balls.
Updated Tools
We have been loaned a SAMR34 Xplained Pro Evaluation Kit by Microchip Technology. Our particular model includes a Atmel WLR089 module, which bundles the ATSAMR34 MCU with a subgigaherz Semtech SX1276 transceiver and several other components. We received this developer kit that is not available on the market yet.